We're kicking off 2020 with a launch event on Thursday 30 January at St. Stephen's Hall in Bournemouth, 6pm-9pm. Please join us as we celebrate becoming a charity.
Our pioneering service offers lifesaving treatment to the people sleeping rough in Bournemouth. And we need to raise much needed funds.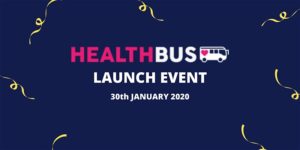 Homelessness is increasingly prevalent in Bournemouth, more so now than ever before – with a 300% increase in rough sleepers over the last eight years.
Our GP Service was launched in December 2016 and offers easily accessible healthcare for people sleeping rough in Bournemouth. It's both invaluable and life-saving, as it enables preventative healthcare at the point of need.
With just one weekly surgery, Dr Maggie Kirk and the team have seen up to 200 patients each year. For many it has been their first contact with healthcare in months, years and sometimes even decades.
To kickstart our fundraising project to build and support The HealthBus, we'd love you to join us for an evening of refreshments, live music, a silent auction and networking.
To RSVP, please register here
To help fundraise, please visit our JustGiving page
Thank you.